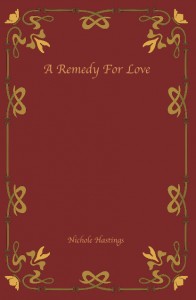 A REMEDY FOR LOVE by Nichole Hastings is a collection of poems and photography that explores love, life, relationships and truth found in nature.  The composer and photographer Nichole Hastings takes you on her journey as she relates her experiences, explorations, and realisations in love while exploring the human condition.
The Other Night
I had a dream the other night

While you were lying next to me in bed

I dreamt of you

I laughed and cried

Awoke to sudden clarity
Filled with intense hope
And that of dread
My feet spasm kicked at the blankets

Tears and a smile adorned my cheeks and lips

Our limbs intertwined

We lay on our sides

Pressed forehead-to-forehead
Nose-to-nose
And hip-to-hip
What did I see in that awaking dream?

What realization could have such an effect?

I could tell you I suppose

But I know
You already know

And saying the words
Will prove the means to our end
Nichole Hastings is a poet, ceramicist, photographer, writer, and music lover. Nichole was born in South Korea and adopted at the age of two by a caucasian couple stationed in Seoul, the city of her birth in the late 1970s.  She grew up hiking, camping and fishing in a small rural farming community in New Hampshire; the only girl among her three cousins and a younger sibling. Nichole currently lives in Madrid, Spain.
Purchase a paperback copy here:


Also available as an eBook and as an Apple iBook.
Telephone: 802.332.6615  ||  Email: info@stylemylife.us