"Writing music makes me think. What I want, while sharing my music, is for others to think as well, take a moment to listen to what I've been through, and as we are all human beings, we feel the same emotions and we generally travel through the same "problems" in life, no song is misunderstood."
«Componer música me hace pensar. Lo que busco al compartir mi música es que los demás también piensen, que dediquen un momento a pensar por lo que he pasado, y dado que todos somos seres humanos, sentimos las mismas emociones y, en general, tenemos los mismos "problemas", ninguna canción se malinterpreta».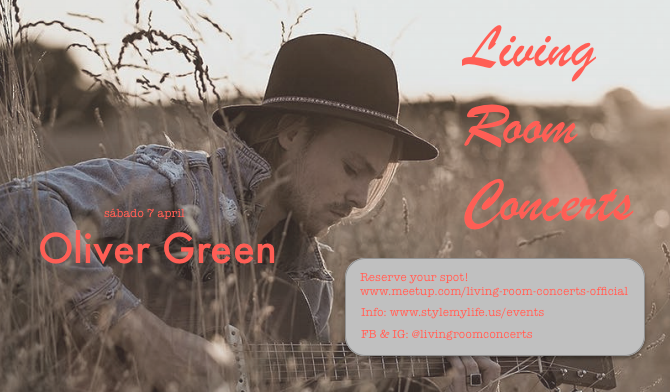 Oliver Green is a singer, songwriter, guitarist and actor born in Helsinki, Finland the 20th of April of 1990.
His parents (Kristiina Holmberg & Peter Green), working in tourism, moved back to Lanzarote when he was very young, a year later they moved to Portugal and ended up in Malaga (Spanish Peninsula) when Oliver was three years old. At the age of five, he picked up his first classical guitar and learnt how to play with his father, also a musician and actor living in Scotland.
On his 15th birthday he was given his first electric guitar and started the Oxford Trinity College of rock music. He completed five out of eight grades without standing scores, while at the same time, studying drama and musical theater.
After living and working in Barcelona for two years, at the age of 21, he moved to Madrid (Capital of Spain) to get his acting degree in the prestigious drama college Cristina Rota and continued his musical career, studying voice with Edith Salazar, writing songs for himself and others. In April 2016 he released his first single (4th Avenue) followed by the recording of his first album, published under the same name in December 2016 with Martin Music.
Oliver Green, es un cantante, compositor, guitarrista y actor nacido en Finlandia el 20 de arbil de 1990.
Sus padres (Kristiina Holmberg y Peter Green), ambos trabajando en el sector del turismo, se mudaron a Lanzarote cuando Oliver era muy joven, un año más tarde a Portugal y terminaron finalmente en Málaga, España. Con 5 años Oliver cogió su primera guitarra clasica con la que aprendió a tocar junto su padre, tambien músico y actor residente en Escocia. Con 15 le regalaron su primera guitarra eléctrica y empezó el curso de Oxford Trinity College de la música rock, superando 5 de 8 grados con sobresaliente, mientras estudiaba interpretación y teatro musical.
Después de vivir 2 años en Barcelona, a los 21 años Oliver se muda a Madrid para seguir formándose en arte dramático en la escuela Cristina Rota, mientras continuaba con su carrera musical, tomando clases de voz con Edith Salazar, componiendo para él y otros artistas. En abril de 2016 publica su primer single (4th Avenue) seguido de la grabación de su primer disco, publicado bajo el mismo nombre en diciembre del 2016 con Martin Music.
[translation: quote by Julia Gaa Lacuna Allende; biography by Oliver Green]
Connect with Oliver and his music / Conecta con Oliver y su musica:
Website – www.oliverjgreen.com
Facebook – www.facebook.com/imolivergreen/
Instagram – www.instagram.com/imolivergreen/
Youtube – www.youtube.com/user/MrGreenstudios/
—
Oliver Green will perform starting at 21.00 on Saturday April 7th. Bring your positive energy. Lively conversation, new friends and more, before and after the performance. Come join us!
Oliver Green ofrecerá un concierto a partir de las 21:00 del sábado 7 de april. Trae tu energía positiva. Conversación animada, nuevos amigos y más antes y después de la actuación. ¡Únete a nosotros!
—
New LRC Members: Join Living Room Concerts and RSVP here.
LRC Members: RSVP here.
---
Sponsors & Collaborators / Patrocinadores y Colaboradores: