"We respond to an evolutionary drive to feel part of a community, move in rhythm with the group, be a unique voice apart, to love, to share stories and the experiences that are our most intangible thoughts." -Julia, violinist
«Respondemos al impulso evolutivo de sentirnos parte de una comunidad, movernos al mismo ritmo que el grupo, ser una voz única y diferente, amar y compartir historias y experiencias que son nuestros pensamientos más intangibles». -Julia, violinist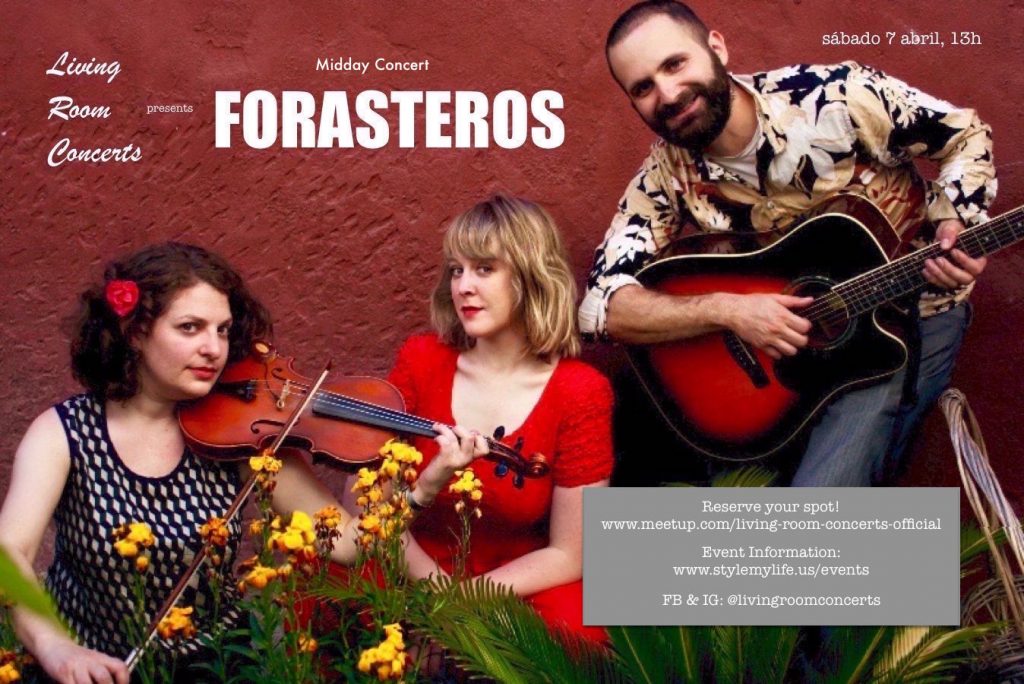 Forasteros are the pioneers of Scatterbrain Swing and Confessional GypsyFolk. Their music fuses different genres (swing, folk and gypsy jazz, with Balkan rhythms), languages (Spanish, English, French, Japanese, Welsh), and concepts (from the environment to festival euphoria).
Forasteros Quartet (vocals, violin, guitar, clarinet, ukulele) play acoustic versions of songs from their original repertoire of swing and folk.
No doubt you'll have heard them on Cadena SER's radio competition "Suena Madrid", or perhaps you'll have seen them at one of their fortnightly "Forasteros and Friends" jams at Liber Arte Cantina Cultural. Right now, Forasteros are working hard on their debut album.
Originarios de todas partes del mundo, Forasteros son los músicos pioneros del Swing casquivano y GypsyFolk confesional. Su sonido fusiona diversos estilos como swing, folk y gypsy jazz, con ritmos balcánicos, además de diversas lenguas como castellano, inglés, francés, japonés y galés, y temáticas variadas, desde el medio ambiente hasta la euforia festivalera.
Forasteros Quartet cuenta con voz, violín, guitarra, clarinete y ukulele, y en sus conciertos podrás disfrutar de versiones acústicas de su repertorio original de swing y folk.
Seguramente los habrás escuchado en la Cadena SER (concurso "Suena Madrid") o tal vez en su recién estrenada jam quincenal "Forasteros & Friends" en el Liber Arte Cantina Cultural. Ahora Forasteros se encuentran trabajando en su álbum debut.
[translation: Forasteros]
Connect with Forasteros / Conecta con Forasteros:
Facebook – https://www.facebook.com/forasterosmadrid
Band camp – https://iheartforasteros.bandcamp.com/releases/
Instagram – http://www.instagram.com/forasterosmadrid/
Twitter – http://www.twitter.com/forasterosmad
Forasteros Acoustic Quartet will perform starting at 13.00 on Saturday April 7th. This concert starts promptly, it is a straight 45-minute set with no intermission. After the concert finishes, Rachel and Nichole will be heading directly to the Mercado de la Cebada in La Latina to eat rations of seafood and drink wine. Everyone who attends is welcome to join them at this after-concert lunch social. Come join us!
Forasteros Acoustic Quartet nos ofrecerán un concierto a partir de las 13:00 del sábado 7 de abril. El concierto empezará puntual y será una sesión de corrido de 45 minutos, sin pausas. Tras acabar el concierto, Nichole and Rachel irán directamente hacia el Mercado de la Cebada en La Latina para tapear marisco y vino. Animamos a todos los asistentes que así lo deseen a que se unan a ellos a esta quedada posconcierto. ¡Vente con nosotros!
—
LRC Members: RSVP here.
---
Sponsors & Collaborators / Patrocinadores y Colaboradores: