"Music helps me breathe, soothes my soul and gives me freedom."
"La música me ayuda a respirar, alivia mi alma y me da libertad."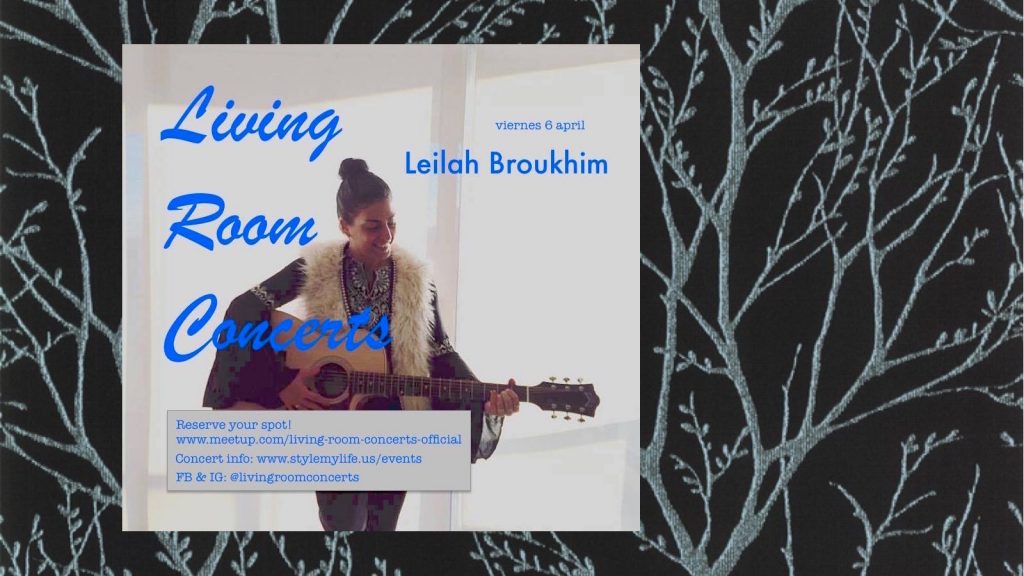 Leilah Broukhim is a singer-songwriter and a flamenco dancer born and raised in New York City. She grew up in a Persian Jewish household filled with music of all genres and from all corners of the world. During her high school years, she actively participated in musical theatre productions as a soloist and while studying Film at Columbia University, she performed yearly in an AIDS benefit show called "Broadway Tonight." Leilah moved to Spain in 2000 to pursue her love for flamenco and currently tours with her own dance company. It wasn't until three years ago when she started learning guitar, that shortly after she wrote her first folk song. Since then, she has continued composing, studying music at la Escuela de Música Creativa and performing in various venues around Madrid.
Leilah Broukhim, cantautora y bailaora de flamenco nacida y criada en Nueva York, creció en una casa judía-iraní llena de música de todos los géneros y de todos los rincones del mundo. Durante sus años de instituto participaba activamente como solista en los montajes de teatro musical y mientras estudiaba la carrera cine en la Columbia University, actuaba anualmente en "Broadway Tonight", un espectáculo benéfico para el SIDA. Leilah se traslada a España en el año 2000 impulsada por su amor al arte flamenco y en la actualidad dirige su propia compañía de baile. Hace tres años comenzó a tocar la guitarra y muy poco después escribe su primera canción folk americano. Desde entonces, sigue componiendo, estudia música en la Escuela de Música Creativa y actua en varias salas de Madrid.
[translation: Leilah Broukhim]
Connect with Leilah / Conecta con Leilah:
Instagram – www.instagram.com/leilah_love
Twitter – www.twitter.com/leilahflamenco
Website – www.leilahbroukhim.com
—
Leilah Broukhim will perform starting at 21.00 on Friday April 6th. Bring your positive energy. Lively conversation, new friends and more, before and after the performance. Come join us!
Leilah Broukhim ofrecerá un concierto a partir de las 21:00 del viernes 6 de april. Trae tu energía positiva. Conversación animada, nuevos amigos y más antes y después de la actuación. ¡Únete a nosotros!
—
---
Sponsors & Collaborators / Patrocinadores y Colaboradores: