"Music makes us connect. As a group that rehearses and composes as a whole, as individuals who seek to understand themselves, as nodes of a network of artists that grows through our generation. We connect with those who inspire the stories we tell, with our friends, families and couples, but also with whoever listens to us for the first time. With music we invent roads, just as our idols did for us."
«La música nos hace conectar. Como grupo que ensaya y compone en conjunto, como individuos que buscan entenderse a sí mismos, como nodos de una red de artistas que crece a través de nuestra generación. Conectamos con quien nos inspira las historias que contamos, con nuestros amigos, familias y parejas, pero también con quien nos escucha por primera vez. Con la música inventamos carreteras, así como nuestros ídolos las hicieron para nosotros».
[translation/ traducción: by Quanah]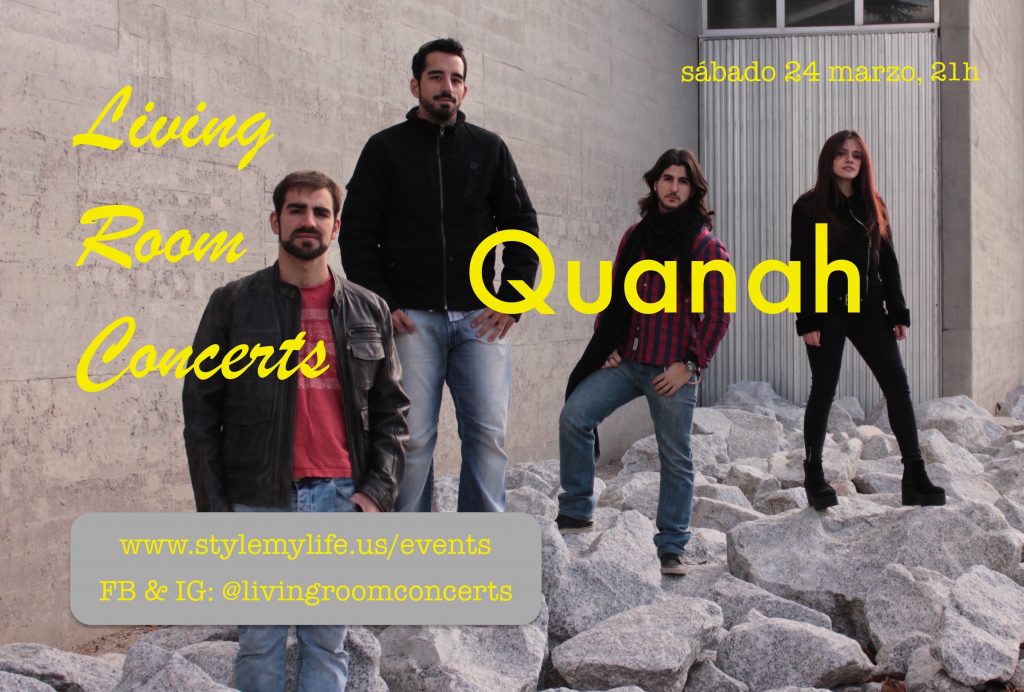 Quanah started at the music school Collado Mediano in 2013 under the direction of Billy Villegas (Aute, Cómplices, Antonio Vega, etc). After a few years as a combo and several changes on formation, they settled in as a band and begin to play at different places around Madrid.
In 2016 they participated in the Festival Stone de Alpedrete winning first place. They used the prize winnings to record their first EP, called Three Drops Over, in Studio A with Eduardo Figueroa. Their work is a mixture of styles that go from jazz to funk, passing through rock and blues, among others.
For this concert occasion, they have rearranged their songs to present them in an acoustic set.
Quanah se forma en la escuela de música de Collado Mediano en 2013, bajo la dirección de Billy Villegas (Aute, Cómplices, Antonio Vega, etc). Tras unos años como combo y varios cambios de formación, se asientan como grupo y comienzan a tocar en salas de Madrid.
En 2016 participan en el Festival Stone de Alpedrete obteniendo el primer puesto, y con el premio entran a grabar su primer EP, llamado Three Drops Over, en Estudio A con Eduardo Figueroa; su trabajo refleja una mezcla de estilos que van desde el jazz hasta el funk, pasando por el rock o el blues entre otros.
Para esta ocasión, han rearreglado los temas para presentarlos en un set reducido en acústico.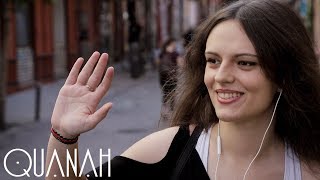 Connect with Quanah / Conecta con Quanah:
Facebook – www.facebook.com/QuanahMusic/
Instagram – www.instagram.com/quanahmusic
YouTube – www.youtube.com/watch?v=8FfPorr5Gj0
—
Quanah will perform starting at 21.00h on Saturday March 24th. Bring your positive energy. Lively conversation, new friends and more, before and after the performance. Come join us!
Quanah nos ofrecerán un concierto a partir de las 21:00h del sábado 24 de marzo. Trae tu energía positiva. Conversación animada, nuevos amigos y más antes y después de la actuación. ¡Únete a nosotros!
—
---
Sponsors & Collaborators / Patrocinadores y Colaboradores: