Two sets, two singer-songwriters, all original music.
Dos actuaciones, dos cantautores, ambas con música propia.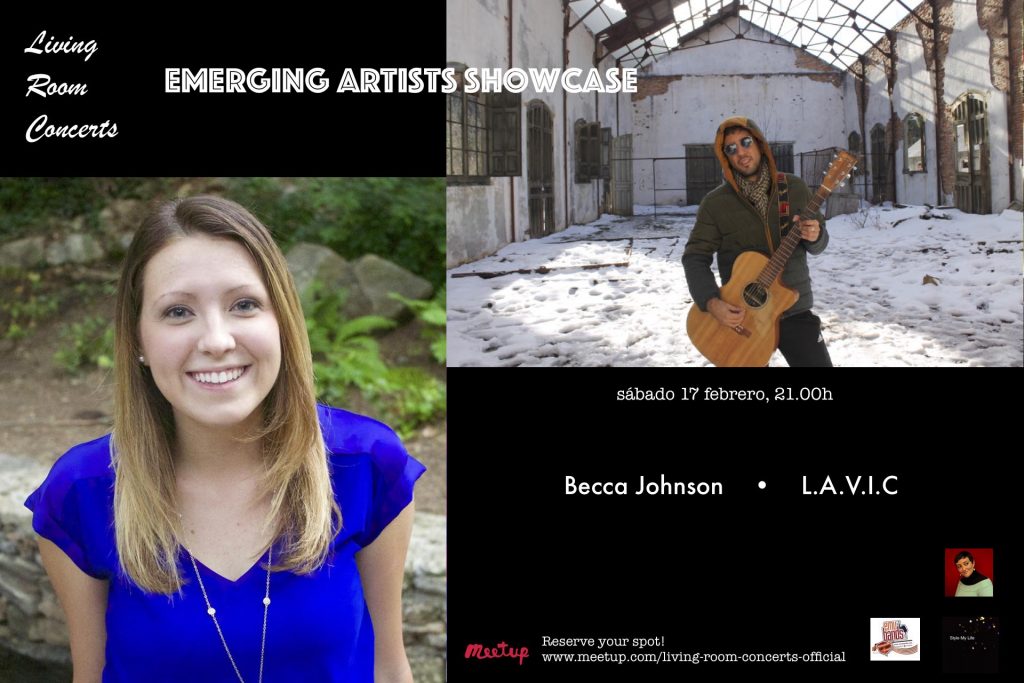 "Music constantly amazes me because it gives you the power to capture and revisit specific emotions. You'll never forget how you felt when you first heard a song that moves you."
–
«La música no deja de sorprenderme porque te permite captar y volver a visitar emociones concretas. Nunca olvidas cómo te sentiste la primera vez que escuchaste una canción que te emocionó».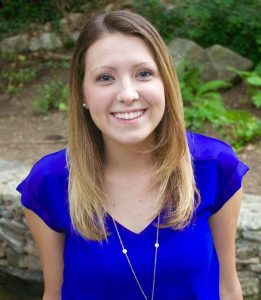 Becca Johnson originally comes from Madison, New Jersey, and she is currently an English assistant in Madrid. Her mother taught her to play the guitar when she was twelve years old and she has been strumming away ever since. Becca recently began writing her own original music and is thankful for the opportunity to learn from so many talented artists in the Madrid music community.
–
Becca Johnson viene de Madison, Nueva Jersey, y trabaja en la actualidad como profesora auxiliar de inglés. Su madre le enseñó a tocar la guitarra cuando tenía 12 años y no ha parado de rasguear cuerdas desde entonces. Hace poco ha empezado a componer su propia música y se siente muy agradecida de contar con la oportunidad de aprender de los numerosos artistas de gran talento que integran la comunidad musical de Madrid.
Connect with Becca and her music / Conecta con Becca y su musica:
Facebook – www.facebook.com/beccajmusic/
YouTube – www.youtube.com/user/sunshinedoses
—
"Music is everything and nothing; my only truth. Music is the truth you find when you remove the dust and dig deep in your soul."
–
«La música es todo y nada; mi única verdad. La música es la verdad que encuentras cuando sacudes el polvo y te adentras en lo más profundo de tu alma».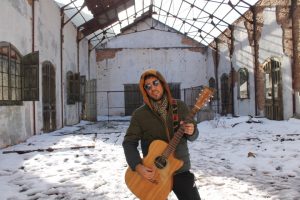 Born in Vitoria and raised in Madrid, music began to hit L.A.V.I.C's head when his aunt gave him some cassettes of Sabina and The Beatles, sound the same time Oasis sounded in "Los 40". Shortly after Napster and eMule came into being, and he became obsessed. When L.A.V.I.C tuned 17, a guitar fell into his hands and he began to put music to his lyrics, although not necessarily in that order. His inspiration used to come while studying for Engineering exams. After some failed exams, L.A.V.I.C had gathered enough songs and he began to present them at Triskel Tavern's Open Mic. On that stage, he felt so good that on the other nights he dreamt about it. But after finishing his studies, music was put on the back burner and set aside. However, deep down he knew that music was a part of his soul and songs kept popping up and out. In 2017, by chance, L.A.V.I.C met a producer and started to record his dusty old songs as well as some new material. The rest of the story is still being written.
Nacido en Vitoria y criado en Madrid, la música empezó a rondar por la cabeza de L.A.V.I.C cuando su tía le regaló unas cintas de Sabina y de los Beatles, en la época en la que Oasis sonaba todo el tiempo en «Los 40». Poco después llegaron Napster y eMule y la afición se tornó obsesión. Cuando cumplió 17 consiguió una guitarra y empezó a poner música a sus letras, aunque no siempre en ese orden. La inspiración solía llegarle mientras estudiaba para sus exámenes de Ingeniería. Después de suspender unos cuantos, había reunido una buena cantidad canciones que empezó a presentar en las noches de micrófono abierto de la Triskel Tavern. Se sentía tan bien sobre ese escenario, que el resto de noches soñaba que estaba en él. Pero cuando acabó la carrera, la música se vio relegada a un segundo plano. No obstante, en lo más hondo de su ser sabía que la música era parte de su alma y las canciones seguían brotando de ella. En 2017, L.A.V.I.C conoció por casualidad a un productor y empezó a grabar sus viejos temas junto con algo de material nuevo. El resto de la historia está escribiéndose todavía.
–
Connect with L.A.V.I.C and his music / Conecta con L.A.V.I.C y su musica:
Facebook – www.facebook.com/lavicmusic/
Instagram – www.instagram.com/l.a.v.i.c/
—
Becca Johnson and L.A.V.I.C will perform starting at 21.00 on Saturday February 17th. Bring your positive energy. Lively conversation, new friends and more, before and after the performance. Come join us!
Becca Johnson y L.A.V.I.C nos ofrecerán un concierto a partir de las 21:00 del sábado 17 de febrero. Trae tu energía positiva. Conversación animada, nuevos amigos y más antes y después de la actuación. ¡Únete a nosotros!
—
——————————
Our Official Sponsors / Nuestros Patrocinadores Oficiales: