This year the great singer-songwriter Bob Dylan turns 77-years old.
We're holding auditions for amateur singers and musicians who wish to perform three of Dylan's songs in concerts on May 24th, 25th, and 26th.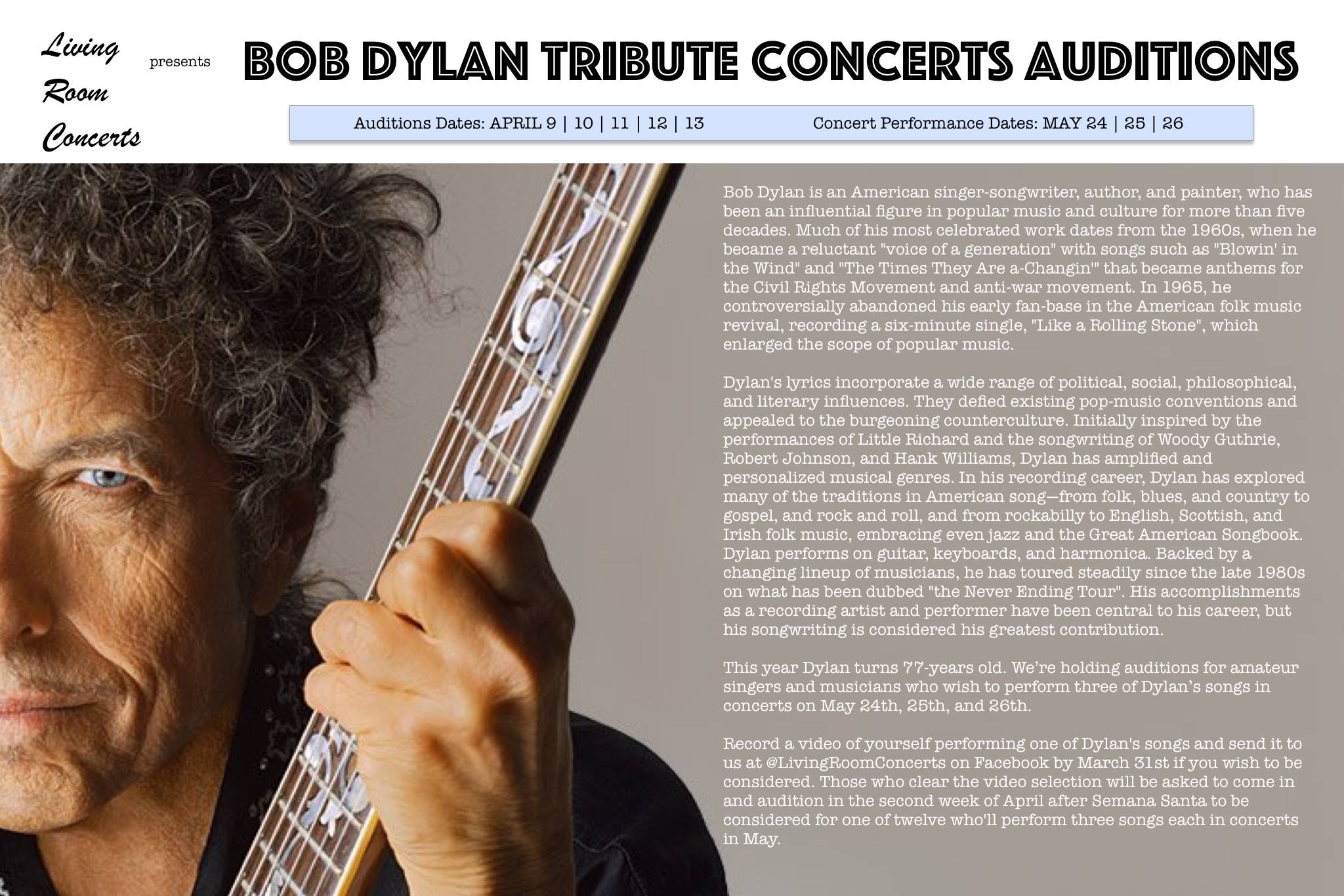 HOW TO RESERVE A SPOT FOR AN AUDITION:
Record a video of yourself performing one of Dylan's songs and send it to us at Living Room Concerts on Facebook by March 31st if you wish to be considered. Those who clear the video selection will be asked to come in and audition in the second week of April (9th, 10th, 11th, 12th, 13th) after Semana Santa to be considered for one of twelve who'll perform three concerts each in May.
LIST OF SONGS YOU MAY PERFORM:
www.bobdylan.com/songs/
NOTE:
Performances in May will be donated. The proceeds from the 6€ tickets to attend the May 24th, 25th and 26th concerts will fund a special LRC grant that those who perform in Living Room Concerts in the First, Second or Third Series may apply for in July, August and September to help support them in one of three categories: recording, equipment, tour.
OTHER WAYS TO PARTICIPATE:
These applications will be screened by a panel of twenty, selected from those who host concerts for us in their living rooms and LRC members who have attended at least five concerts in the Third Series.
—
Bob Dylan is an American singer-songwriter, author, and painter, who has been an influential figure in popular music and culture for more than five decades. Much of his most celebrated work dates from the 1960s, when he became a reluctant "voice of a generation" with songs such as "Blowin' in the Wind" and "The Times They Are a-Changin'" that became anthems for the Civil Rights Movement and anti-war movement. In 1965, he controversially abandoned his early fan-base in the American folk music revival, recording a six-minute single, "Like a Rolling Stone", which enlarged the scope of popular music.
Dylan's lyrics incorporate a wide range of political, social, philosophical, and literary influences. They defied existing pop-music conventions and appealed to the burgeoning counterculture. Initially inspired by the performances of Little Richard and the songwriting of Woody Guthrie, Robert Johnson, and Hank Williams, Dylan has amplified and personalized musical genres. In his recording career, Dylan has explored many of the traditions in American song—from folk, blues, and country to gospel, and rock and roll, and from rockabilly to English, Scottish, and Irish folk music, embracing even jazz and the Great American Songbook. Dylan performs on guitar, keyboards, and harmonica. Backed by a changing lineup of musicians, he has toured steadily since the late 1980s on what has been dubbed "the Never Ending Tour". His accomplishments as a recording artist and performer have been central to his career, but his songwriting is considered his greatest contribution.
---
Sponsors & Collaborators / Patrocinadores y Colaboradores: