"It's amazing how a song or an artist can speak to you through music, provoke instant emotions and help you through life both in good times and bad. There is no other art form like it, an absolute enigma."
«Es increíble cómo una canción un artista pueden hablarte a través de la música, provocar emociones instantáneas y ayudarte a afrontar la vida tanto en los buenos como en los malos momentos. No hay otra forma de arte que se le parezca; es un enigma absoluto».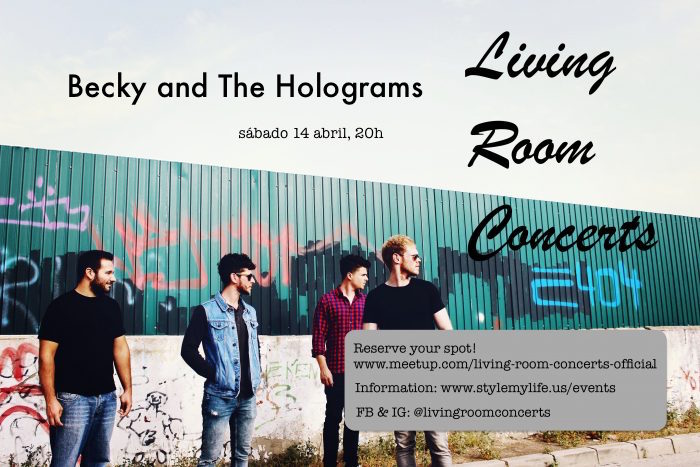 "Becky and the Holograms are a 4-piece Irish rock group from Belfast. Forming in mid-2016 the band have received rave reviews of debut album and release 'Breaking Ties' featuring 12 original tracks recorded and produced in 'Grabaciones Sumergidas' studio in the South of Spain. They have featured on National Spanish TV and radio, and track 'War' is used for Irish Celtic Boxing Champion Anthony 'The Apache' Cacace's ring entrance. For Cacace's British Title fight on 15th July in Wembley Arena this year, the track was played to over 40,000 people and tens of thousands watching on TV. Recently, the band have been working on a brand new EP after relocating to Madrid. They sold out their album launch concert in hometown Belfast and completed a mini summer tour of Andalusia, Northern England and Ireland, playing Lolatownfest and the prestigious GrazalemaFest among others. They have an explosive sound and a high energy live show with a catalogue of superb songs. 2018 could be a very big year for them." – Burning Man Music.
«Becky and the Holograms es un grupo de rock irlandés de Belfast compuesto por cuatro miembros. Desde su formación a mediados de 2016, su disco de debut "Breaking Ties", con 12 canciones originales grabadas y producidas en el estudio "grabaciones sumergidas" en el sur de España, ha recibido críticas entusiastas. Su música ha sonado en cadenas de televisión y radio españolas y el campeón irlandés de boxeo celta Anthony "The Apache" Cacace usa su tema "War" para anunciar su entrada al cuadrilátero. Cuando Cacace defendió su título británico el 15 de julio del año pasado en el estadio Wembley Arena, la canción sonó para los más de 40 000 asistentes y las decenas de miles de personas que lo vieron por televisión. El grupo ha estado trabajando recientemente en un nuevo EP tras trasladarse a Madrid. Las entradas para el concierto de lanzamiento de su álbum en su Belfast natal se agotaron, y completaron una minigira veraniega por Andalucía, el norte de Inglaterra e Irlanda, actuando en el Lolatownfest y el prestigioso Grazalemafest entre otros. Tienen un sonido explosivo y un directo muy potente con un catálogo de magníficas canciones. 2018 podría ser un gran año para ellos». – Burning Man Music.
Connect with Becky and The Holograms / Conecta con Becky and The Holograms:
Facebook – www.facebook.com/beckyandtheholograms/
Soundcloud – www.soundcloud.com/beckyandtheholograms
iTunes – itun.es/es/BbzZgb
Spotify – play.spotify.com/album/1ZXmc60V7z0oiMEsqXtcZq
—
Becky and The Holograms will perform starting at 20.00 on Saturday April 14th. Bring your positive energy. Lively conversation, new friends and more, before and after the performance. Come join us!
Becky and The Holograms nos ofrecerán un concierto a partir de las 20:00 del sábado 14 de abril. Trae tu energía positiva. Conversación animada, nuevos amigos y más antes y después de la actuación. ¡Únete a nosotros!
—
New LRC Members: Join Living Room Concerts and RSVP here.
LRC Members: RSVP here.
---
Sponsors & Collaborators / Patrocinadores y Colaboradores: