"Music is something that, no matter how hard I try, I can't define it with words. For me it's a whole other world, where I can forget about anything that is not the performance, the audience and the song."
«La música es algo que, por mucho que lo intente, no puedo definir con palabras. Para mí es un mundo completamente diferente, donde puedo olvidarme de todo lo que no sea la actuación, el público y la canción».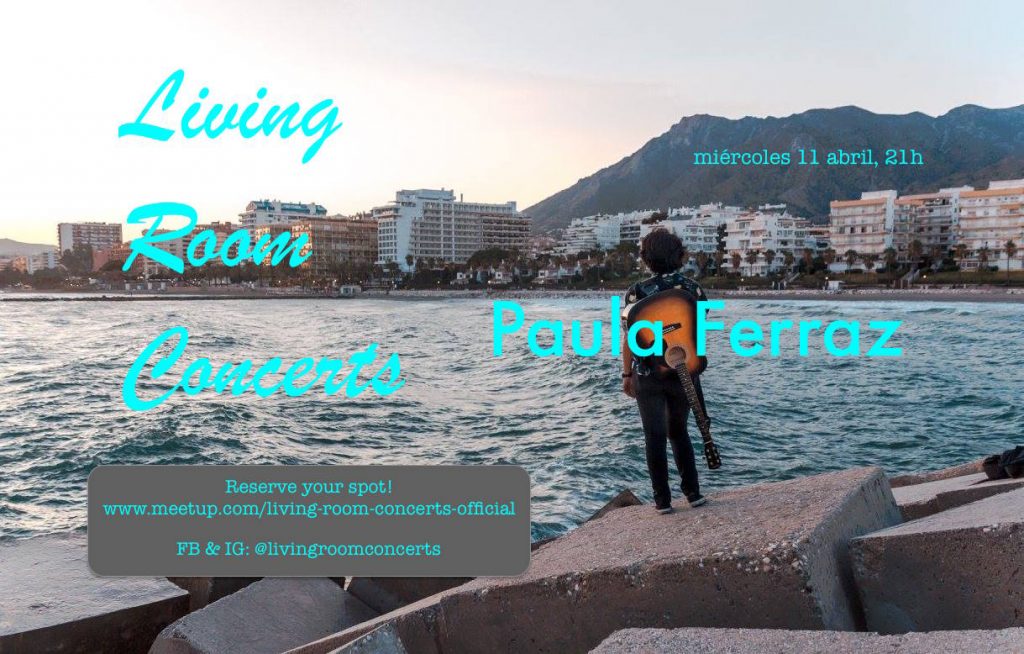 Paula Ferraz moved to Madrid from Marbella two years ago to start university. In her hometown she studied classical piano and sang in a rock band with friends. When members of the band left and moved away, Paula started playing guitar and singing on her own. She performed a few times at a local bar before moving to Madrid where she discovered a new world with the open-mic and concert scene.
Paula Ferraz se vino a Madrid desde Marbella dos años pasado para iniciar sus estudios universitarios. En su ciudad natal estudió piano clásico y cantó en un grupo de rock con amigos. Cuando el grupo se disolvió y sus miembros se fueron yendo a vivir a otros lugares, Paula empezó a tocar la guitarra y cantar por su cuenta. Actuó unas cuantas veces en un bar local antes de mudarse a Madrid, donde descubrió todo un nuevo mundo en las noches de micrófono abierto y conciertos de música.
Connect with Paula / Conecta con Paula:
Website – www.paula.ferraz.es
Facebook – http://www.facebook.com/paulaferraz1997/
Twitter – http://www.twitter.com/paulaferraz97/
Youtube – http://www.youtube.com/channel/UCt-IGbXQY4govvrzUNVI87w/
—
Paula Ferraz will perform starting at 21.00h on Wednesday April 11th. Bring your positive energy. Lively conversation, new friends and more, before and after the performance. Come join us!
Paula Ferraz ofrecerá un concierto a partir de las 21:00h del miércoles 11 de abril. Trae tu energía positiva. Conversación animada, nuevos amigos y más antes y después de la actuación. ¡Únete a nosotros!
—
New LRC Members: Join Living Room Concerts and RSVP here.
LRC Members: RSVP here.
---
Sponsors & Collaborators / Patrocinadores y Colaboradores: