"Music has a power and place in society to create awareness, to make people think and question the world in which we live."
«La música tiene un poder y un puesto en la sociedad destinados a crear conciencia, a hacer pensar a la gente y a que se cuestionen el mundo en el que vivimos».
-David Bornstein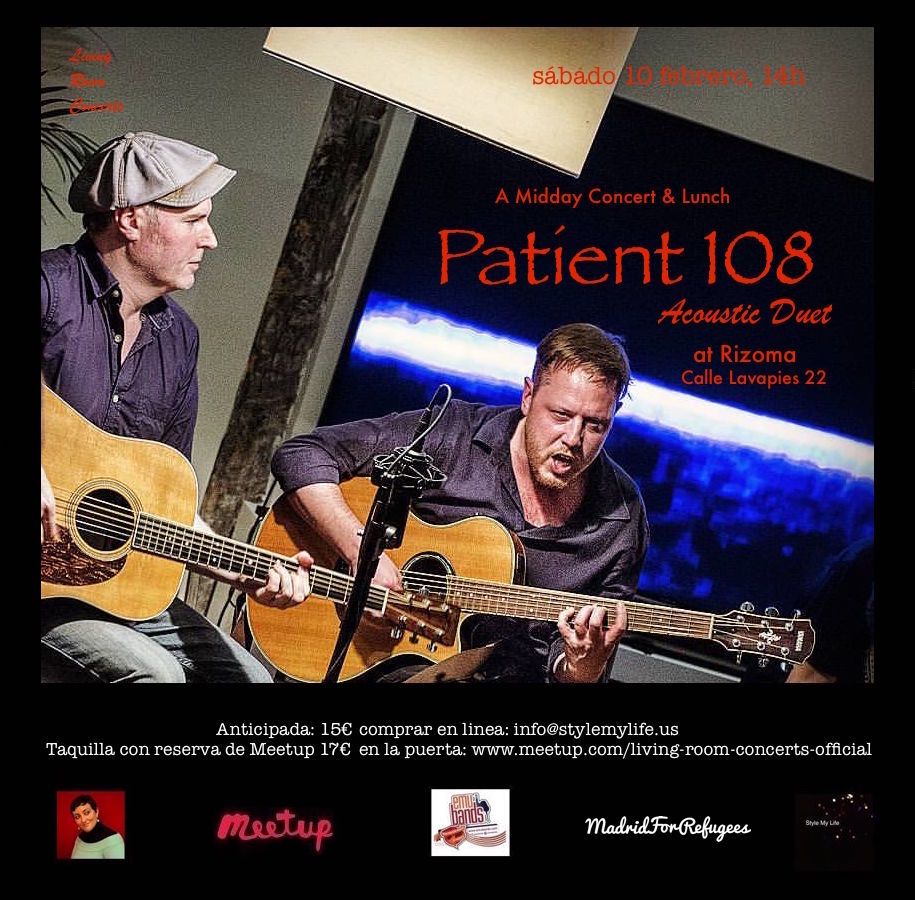 Patient 108's David Bornstein and Kester Jones will perform a special acoustic concert in Rizoma art gallery which is currently showing the "Maisoun, Pasos II" exhibition starting at 14.00h on Saturday February 10th.
Tickets must be purchased in advance online or paid at the door with a Meetup reservation.
The "Maisoun, Pasos II" exhibition features three artists and follows the footsteps of Maisoun Shukair, a Syrian poet forced to flee from Damascus after her brother was killed by the Syrian authorities. The life, testimony and commitment of Maisoun are an antidote to the oblivion faced by refugees who continue to flee their country. Following the concert, guests will have the option to go to lunch at the Syrian restaurant El Basha.
–
David Bornstein y Kester Jones, de Patient 108, ofrecerán un concierto acústico especial en la sala de arte Rizoma, que exhibe en estos momentos «Maisoun, Pasos II». El concierto empezará a las 14:00 del sábado, 10 de febrero.
Las entradas se pueden comprar por adelantado en línea o pagar en la puerta reservándolas a través de Meetup.
«Maisoun, Pasos II» muestra la obra de tres artistas y sigue los pasos de Maisoun Shukair, un poeta sirio que se vio obligado a huir de Damasco después de que su hermano fuera ejecutado por las autoridades del país. La vida, testimonio y compromiso de Maisoun son un revulsivo para el olvido al que se ha sumido a los refugiados que siguen huyendo de Siria.
Tras el concierto, los asistentes tienen la opción de asistir también a la comida que se organiza en el restaurante sirio El Basha.
—
Early-bird / Anticipada: 15€
Tickets with reservation in Meetup / Taquilla con reserva de Meetup: 17€
Email info@stylemylife.us to purchase your ticket in advance / Escribe a info@stylemylife.us para comprar tu entrada por adelantado.
Early-bird tickets available until midnight Wednesday 07 February / Entradas anticipadas disponibles hasta la medianoche del miércoles 07 de febrero
Donaremos 5 € de cada entrada vendida a la ONG Madrid For Refugees. / 5€ of every ticket sold will be donated to the NGO Madrid For Refugees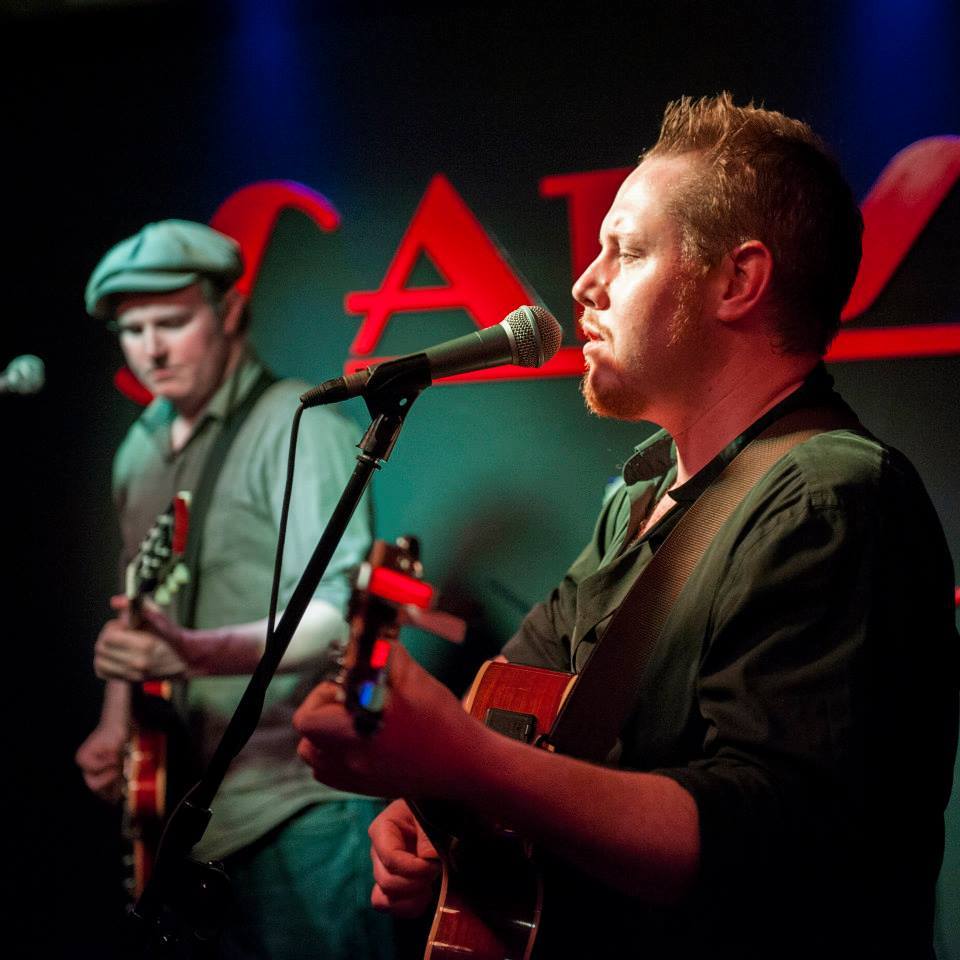 David Bornstein is an American singer-songwriter based in Madrid. Writing in the style of alternative rock, his music discusses themes of human nature, war, identity, and illusion. He is currently the frontman and principal songwriter in the band Patient 108.
–
David Bornstein es un cantautor estadounidense establecido en Madrid. Con un estilo que se encuadra dentro del rock alternativo, su música habla de temas relacionados con la naturaleza humana, la guerra, la identidad y la ilusión. Actualmente es el cantante y letrista principal del grupo Patient 108.
Kester Jones is a guitarist, singer/songwriter, sound engineer/producer, and general multi-instrumentalist. He plays guitar in the alternative-rock band Patient 108, but also can be found playing with a variety of different bands and artists in and around Madrid. His own compositions tend to be more acoustic-based and draw upon an eclectic mix of genres, including folk, blues, country and gypsy jazz.
–
Kester Jones es un guitarrista, cantautor, ingeniero de sonido/productor y multiinstrumentista en general. Toca la guitarra en el grupo de rock alternativo Patient 108, pero también se le puede encontrar colaborando con diversas bandas y artistas de Madrid y alrededores. Sus propios temas tienden a ser más acústicos y a beber de una mezcla ecléctica de géneros, incluyendo folk, blues, country y gypsy jazz.
***
Patient 108 is an international Madrid-based band brimming with a familiar yet distinctly unique style of alternative rock. The band is comprised of singer-songwriter and rhythm guitarist Dave Bornstein, lead guitarist Kester Jones, bassist Xabier Aquino, and drummer Woody Woodenman. The result is an emotionally raw yet sophisticated sound drawing influence from artists such as Radiohead, Jeff Buckley, and The Doors.
The band formed in 2013 and released "Preacher's Got The Gun", a 5 song EP recorded, mixed, and mastered by renowned audio engineer Dany Richter at El Lado Izquierdo Studio in Madrid. Since then, they have performed regularly, at a wide array of venues across the city, honing the dynamic energy of live performances while steadily building up their repertoire. Patient 108 have been played on Radio3 in Spain several times and recently won the Battle of The Bands contest at the iconic Madrid venue, Sala Jimmy Jazz.
The band has just finished working on its first LP, Real of the Unreal, which demonstrates a sharp contrast to the EP, highlighting the band's dynamic versatility and evolution over the years. The album will be released on February 23, 2018, accompanied by the first single and video "Guiri Gringo", which is available on January 27, 2018.
–
Patient 108 es un grupo internacional con base en Madrid con un desbordante estilo de rock alternativo que resulta familiar, a la par que decididamente único. Está compuesto por Dave Bornstein, que pone las letras, la voz y la guitarra acústica, Kester Jones a la guitarra principal, Woody Woodenman en la batería y Xavier Aquino al bajo. El resultado es un sonido sofisticado, aunque de gran crudeza emocional, que bebe de artistas como Radiohead, Jeff Buckley y The Doors.
El grupo se formó en 2013 y ese mismo año publicó «Preacher's Got The Gun», un EP de cinco canciones grabado, mezclado y masterizado por el conocido ingeniero de sonido Dany Richter en el estudio madrileño El Lado Izquierdo. Desde entonces llevan actuando con regularidad en una amplia variedad de escenarios por toda la ciudad, perfeccionando la energía dinámica de las actuaciones en vivo mientras siguen también acrecentando su repertorio. Patient 108 ha sonado numerosas veces en Radio 3 y hace poco ganó la Batalla de Bandas de la emblemática sala madrileña Jimmy Jazz.
El grupo acaba de terminar su primer LP, «Real of the Unreal». Su marcado contraste con el primer EP demuestra el dinamismo y versatilidad del grupo y su evolución a lo largo de los años. El álbum saldrá al mercado el 23 de febrero de 2018, acompañado por el primer sencillo y vídeo, «Guiri Gringo», que se publica este 27 de enero.
Other band members, but not present for this concert / Los demás miembros del grupo, pero que no estarán en este concierto:
Xabier (Xà) Aquino is a Mexican bass player who started playing in local bands and small theater shows in Mexico City. After a couple of years away from playing music, he moved to Barcelona and formed Waving to Strangers, his first European band. In 2013 he moved to Madrid and met Dave and Kester becoming the bass player of the band that would be Patient 108.
–
Xavier (Xà) Aquino es un bajista mexicano que empezó tocando en grupos locales y pequeños espectáculos teatrales en Ciudad de México. Tras un par de años alejado de la música, se trasladó a Barcelona y formó Waving to Strangers, su primer grupo europeo. En 2013 se mudó a Madrid y conoció a Dave y Kester, convirtiéndose en el bajista del grupo que acabaría siendo Patient 108.
—
Woody Woodenman is a multi-instrumentalist from Greater Manchester who started playing the drums from age eleven. He moved onto guitar at fourteen and has played bass as well as fronted bands in England throughout the 90's. Woody moved to Madrid in 2001 and eventually joined Patient 108 to return to his first love in 2014.
–
Woody Woodenman es un multiinstrumentista de Greater Manchester que lleva tocando la batería desde los 11 años. A los 14 pasó a la guitarra, y tocó el bajo y encabezó grupos en Inglaterra a lo largo de la década de 1990. Woody se trasladó a Madrid en 2001 y acabó formando parte de Patient 108 en 2014, volviendo al primer instrumento que lo enamoró.
—
Connect with Patient 108 and their music / Conecta con Patient 108 y su musica:
Facebook & Instagram: @patient108
Bandcamp – www. patient108.bandcamp.com/
Reverb Nation – www.reverbnation.com/patient108/
——————————
In collaboration with: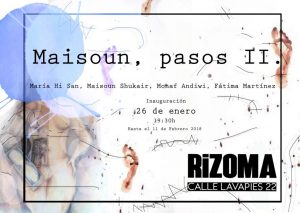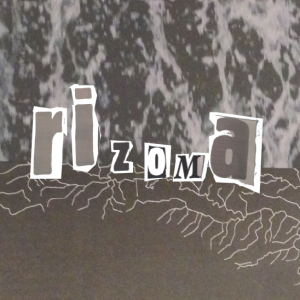 Our Official Sponsors / Nuestros Patrocinadores Oficiales: