This is concert event #102!
"I write songs like others might paint, keep a sketchbook or even get a new tattoo. It just takes whatever form it takes when the song is whirling around my head at that moment." 
«Escribo canciones de la misma forma que otros pintan, tienen un cuaderno de bocetos, o incluso se hacen un nuevo tatuaje. Adopta la forma que sea cuando la canción está rondando por mi cabeza en esos momentos».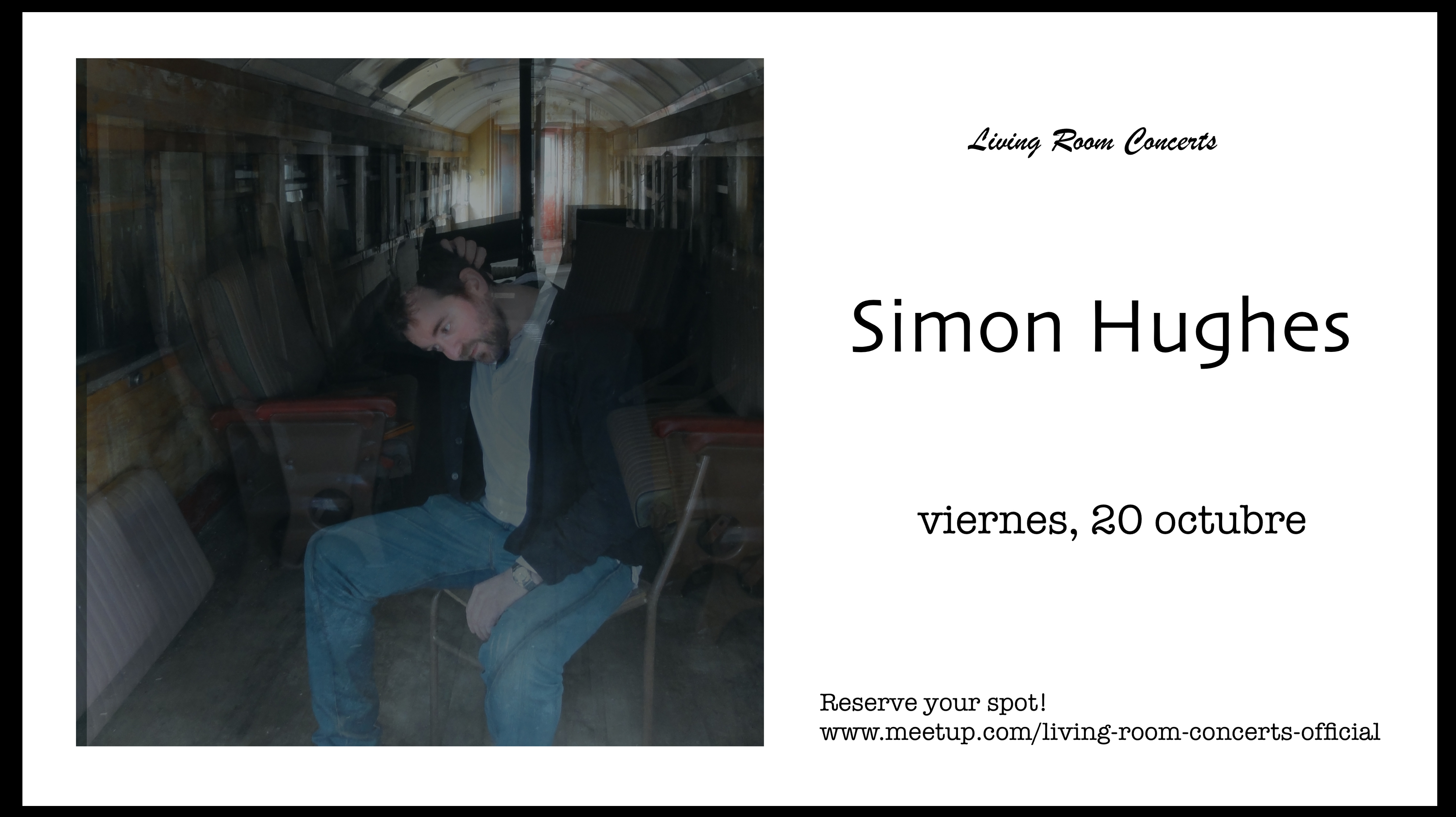 Simon Hughes is a singer-songwriter/producer based in Madrid who started writing songs twenty years ago. His influences range from John Martyn, to Chic, to those lost and forgotten songs of his musical peers. In 2008, Simon released his debut EP 'Sitting at the Edge'. After leaving 'Subroza' his (Preston, UK based) six-piece funk band of as many years in 2012, he travelled and recorded his own solo works; Sometimes in a studio, sometimes in a bedroom, sometimes in the back of a camper van on the winding roads of New Zealand.
Since settling in Madrid, Simon released 'Jinx to Feel' in 2015.
Simon's music is available for download and streaming. You can join his mailing list to receive updates about new releases, including his next EP 'Some Things Real'.
Simon Hughes es un cantautor/productor residente en Madrid que empezó a escribir canciones hace 20 años. Sus influencias van desde John Martyn hasta Chic, pasando por canciones perdidas y olvidadas de otros músicos. El 2008 lanzó su EP de debut, «Sitting at the Edge». Tras dejar en 2012 «Subroza», el grupo de funk de seis miembros con el que estuvo otros tantos años en Preston, Reino Unido, se dedicó a viajar y a grabar sus trabajos en solitario; a veces en un estudio, a veces en un dormitorio, a veces en la parte trasera de una autocaravana en las sinuosas carreteras de Nueva Zelanda.
Tras instalarse en Madrid, Simón publicó «Jinx to Feel» en 2015.
Su música está disponible para descarga o streaming. Puedes apuntarte a su lista de distribución para recibir noticias sobre nuevos lanzamientos, incluyendo su próximo EP, «Some Things Real».
—
Connect with Simon and his music on bandcamp and youtube. 
Conecta con Simon y su música en bandcamp y youtube. .
—
Simon will perform acoustically starting at 21.00 on Friday October 20th. Bring your positive energy and a cushion to sit on. Lively conversation, new friends and more, before and after the performance. Come join us!
Simon le ofrecerá un concierto a partir de las 21:00 del viernes 20 de octubre. Trae tu energía positiva y un cojín para sentarte. Conversación animada, nuevos amigos y más antes y después de la actuación. ¡Únete a nosotros!
—
——————————
Our Official Sponsors / Nuestros Patrocinadores Oficiales:
     Julia G. Lecuona Allende – EmuBands – Style My Life