An intimate private concert in an Rizoma art gallery with Forasteros Quartet amidst the exhibition Estrella y Priscila.
Un concierto privado íntimo en Rizoma galería de arte con Forasteros Quartet con la exposición Estrella y Priscilla.
—
"We respond to an evolutionary drive to feel part of a community, move in rhythm with the group, be a unique voice apart, to love, to share stories and the experiences that are our most intangible thoughts." -Julia, violinist
«Respondemos al impulso evolutivo de sentirnos parte de una comunidad, movernos al mismo ritmo que el grupo, ser una voz única y diferente, amar y compartir historias y experiencias que son nuestros pensamientos más intangibles». -Julia, violinist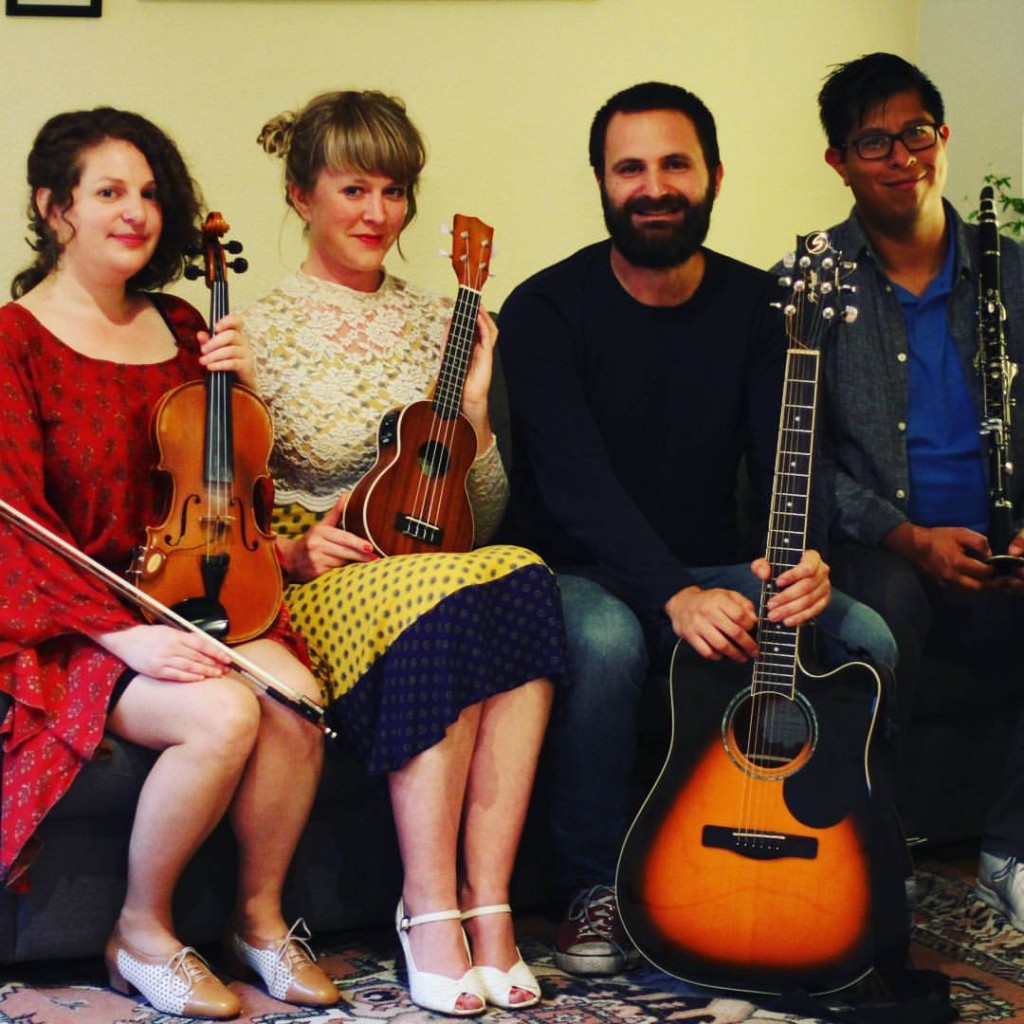 FORASTEROS are the pioneers of SCATTERBRAIN SWING and CONFESSIONAL GYPSYFOLK. 
FORASTEROS are six musicians from Wales, England, Mexico, Japan and Spain.
FORASTEROS' live shows are… Intense. Playful. Energising. Life-changing, some have said.
They sing (in Spanish, French, English, Welsh, Japanese) about…everything really: homeless people, landlords from hell, the environment, pulling sickies, festival euphoria…and much more! Tara (vocals), Tom (guitar), Julia (violin) and Ricardo (clarinet) will serenade you with acoustic renditions of Forasteros' sweet, sweet music. Come and experience their refreshing musical fusion, where Swing, Folk and Gypsy Jazz come together in one big phat ear-watering multilingual mashup.
Just so you know, Forasteros released their single "KARMA" on Spotify in May, they're finalists in Jimmy Jazz's Battle of the Bands and they recently played at one of the best off-the-beaten-track festivals in Spain: Poborina Folk (Aragón).
FORASTEROS son los pioneros del SWING CASQUIVANO y el GYPSYFOLK CONFESIONAL.
FORASTEROS son seis músicos que vienen de Gales, Inglaterra, México, Japón y España.
Un directo de FORASTEROS es… Intenso. Juguetón. Vigorizante. Hay quien dice que te cambia la vida.
Cantan (en castellano, inglés, francés, galés y japonés) sobre…prácticamente todo: las personas sin hogar, un tal casero del infierno, el medio ambiente, la cuentitis, la euforia festivalera, y mucho más! Tara (voz), Tom (guitarra), Julia (violín) y Ricardo (clarinete) te traerán versiones acústicas de esa dulce, dulce música de Forasteros. Ven a vivir su refrescante fusión musical, en la que Swing, Folk y Gypsy Jazz se unen en una gran mezcla multilingüe.
Ah, y Forasteros lanzaron su single KARMA en Spotify en mayo, son finalistas en la Batalla de las Bandas de Jimmy Jazz y acaban de actuar en uno de los mejores pequeños festivales de España: Poborina Folk (Aragón).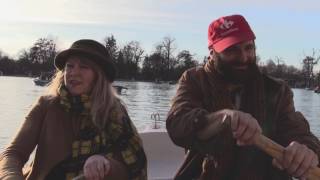 Connect with Forasteros on Facebook and Instagram …. and check out their music on Bandcamp and Spotify.
Conecta con Foresteros en Facebook y Instagram  … y escucha su música en Bandcamp y Spotify.
—
Forasteros Quartet will perform starting at 21.00 on Thursday July 6th.
Come join us!
Forasteros Quartet nos ofrecerán un concierto a partir de las 21:00 del jueves 6 de junio.
 ¡Únete a nosotros!
—
About the exhibition Estrella y Priscila …
Sobre la exposición Estrella y Priscila …
Both artists did not let their processes, thoughts and ideas through techniques, are fun dynamic and explore the world to propose a point of view that as fractals collage is presented to us, it is proposed and does not invite us to look beyond Cada Image, of each clipping, lead us to think until the moment of choosing and trim an image that like the plastic composition tell us part of their lives and their experiences in this plant. Here fragment collageado of the words of two and collageadas by Rizoma:
"In the paintings life and death mix, sex as the most carnal and angels and clouds as the divine,Its purpose is to make the viewer of the object observed. Looks attentive to the same point. Eyes pending of a performance. Different people in the same skin, in the same support, in the same collage; Offer to those who look Inquiring, innumerable response options. "
Ambas artistas nos dejaran ver sus procesos, sus pensamientos e ideas a través de sus técnicas, son divertidas dinámicas y exploran el mundo para proponernos un punto de perspectiva que como fractales collage se nos presenta, se nos propone y nos invita a mirar mas allá de cada imagen, de cada recorte, nos llevan a pensar hasta el momento de elegir y recortar una imagen que como composición plástica nos narran parte de sus vidas y sus experiencias en este planta. 
Aquí fragmento collageado de las palabras de ambas y collageadas por Rizoma:
"En los cuadros se mezcla la vida y la muerte, el sexo como lo más carnal y los ángeles y las nubes como lo divino, Tiene como fin hacer del espectador el objeto observado. Miradas atentas a un mismo punto. Ojos pendientes de una actuación. Personas diferentes en una misma piel, en un mismo soporte, en un mismo collage; ofrecen a quién mira preguntando, innumerables opciones de respuesta." 
[Exhibition Opens / Exposición abierta: 30 Junio (a 6 Julio), a las 18.00]
—
Cover: 5€ (or 7€ with Open Bar of wine and beer) 
Suggested Donation to Artists is a sliding scale: 5€ to 20€ 
Entradas: 5€ (o 7€ con Barra Libre de vino y cerveza)
Donación sugerida a la artista es una escala móvil: 5€ a  20€ 
——————————-
Our Official Sponsors / Nuestros Patrocinadores Oficiales:
       Julia G. Lacuna Allende   –   EmuBands   –   Style My Life
                       Rizoma Galeria – Calle Lavapies 22