"Music is everything … It's a language, an art form, a way of life."
«La música lo es todo… Es un lenguaje, un arte, una forma de vida».
AmyJo Doh came to Madrid on her way to Mexico for 6 months … She never made it Mexico. Twelve years later and she's still living in Madrid.
AmyJo has always written songs and poems but only started sharing them with the world about 7 years ago. It was around that same time that she met Ross Mardous and they formed 'The Ezra Beats'. When Ross left Spain, AmyJo decided to continue developing herself as a singer-song-writer. She formed 'AmyJo Doh & The Spangles' and they are set to release their first album in 2017. They are a playful high-energy pop band of pink bubblegum fun.
AmyJo Doh llegó a Madrid par pasar seis meses antes de seguir su ruta hacia México… Pero nunca llegó a ir. Doce años más tarde, sigue viviendo en Madrid.
AmyJo lleva toda la vida escribiendo poemas y canciones, pero no empezó a compartirlos con el resto del mundo hasta hace unos siete años. Fue aproximadamente por aquel entonces cuando conoció a Ross Mardous y ambos formaron «The Ezra Beats». Cuando Ross se marchó de España, AmyJo decidió seguir desarrollándose como cantautora. Formó «AmyJo Doh & The Spangles», cuyo álbum de debut saldrá en 2017. Son un grupo de pop travieso y dulce, pero lleno de energía y diversión.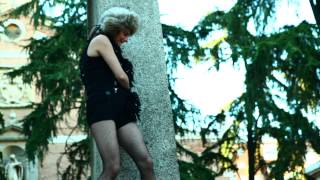 AmyJo will perform acoustically starting at 21.00 on Friday May 26th. Bring your positive energy and a cushion to sit on. Lively conversation, new friends and more, before and after the performance. Come join us!
AmyJo nos ofrecerá un concierto acústico a partir de las 21:00 del viernes 26 de mayo. Trae tu energía positiva y un cojín para sentarte. Conversación animada, nuevos amigos y más antes y después de la actuación. ¡Únete a nosotros!
—
Cover: 5€ (or 7€ with Open Bar of wine and beer) 
Suggested Donation to Artists is a sliding scale: 5€ to 20€ 
Entradas: 5€ (o 7€ con Barra Libre de vino y cerveza)
Donación sugerida a la artista es una escala móvil: 5€ a  20€ 
—
——————————————————————————————-
OUR OFFICIAL GROUP SPONSORS / NUESTROS PATROCINADORES OFICIALES DEL GRUPO: