"Music is potential, an almost infinite potential to become anything and to touch anyone."
«La música es potencial, un potencial casi infinito para convertirse en cualquier cosa y llegar a cualquiera».
London born singer-songwriter Chisara Agor has steadily grown a reputation for her honest and raw music. Within a year she went from playing in open mics in both london and Madrid to presenting her first EP Seasons on RNE (Radio Nacional España). Self taught on the guitar and ukulele Chisara's music may be reminiscent of classic jazz and soul. But her repertoire is a varied and eclectic mix, reflecting her wide range of influences and styles. Recently she produced and released her lo-fi experimental project Natural Disturbance which combined her talent for not only music but also artistry and poetry. With a previous number one track on Soul Spain and recently recognised as an underground artist to look out for in 2017, Chisara Agor has a bright and exciting future ahead of her.
La cantautora londinense Chisara Agor se ha ido forjando poco a poco una reputación por lo honesto y descarnado de su música. En menos de un año ha pasado de actuar en noches de micrófono abierto en Londres y Madrid a presentar su primer EP, Seasons, en RNE. Autodidacta de la guitarra y el ukelele, la música de Chisara tiene reminiscencias del jazz y el soul clásicos. Pero su repertorio es una mezcla variada y ecléctica que refleja su amplio abanico de influencias y estilos. Hace poco produjo su primer proyecto experimental lo-fi, Natural Disturbance, que combina sus dotes musicales con su talento para el arte y la poesía. Uno de sus temas fue número uno de Soul Spain y hace poco fue reconocida como la  artista underground a la que seguir en 2017, así que sin duda Chisara Agor tiene un futuro prometedor y emocionante ante sí.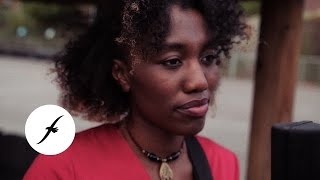 Connect with Chisara and her music on her website www.chisaraagor.com. You can also find her on  Facebook, Twitter and Instagram.
Conecta con Chisara y su música en su web: www.chisaraagor.com. También puedes encontrarla en Facebook, Twitter e Instagram.
—
Chisara will perform starting at 21.00 on Saturday February 25th. Bring your positive energy and a cushion to sit on. Lively conversation, new friends and more, before and after the performance. Come join us!
Chisara nos ofrecerá un concierto a partir de las 21:00 del sábado 25 de febrero. Trae tu energía positiva y un cojín para sentarte. Conversación animada, nuevos amigos y más antes y después de la actuación. ¡Únete a nosotros!
—
Cover: 5€ (or 7€ with Open Bar of wine and beer) 
Suggested Donation to Artists is a sliding scale: 5€ to 20€ 
Entradas: 5€ (o 7€ con Barra Libre de vino y cerveza)
Donación sugerida a la artista es una escala móvil: 5€ a  20€ 
—
——————————————————————————————-
OUR OFFICIAL GROUP SPONSORS / NUESTROS PATROCINADORES OFICIALES DEL GRUPO: