"We respond to an evolutionary drive to feel part of a community, move in rhythm with the group, be a unique voice apart, to love, to share stories and the experiences that are our most intangible thoughts." – Julia, violinist
«Respondemos al impulso evolutivo de sentirnos parte de una comunidad, movernos al mismo ritmo que el grupo, ser una voz única y diferente, amar y compartir historias y experiencias que son nuestros pensamientos más intangibles». -Julia, violinist
Tom (guitar), Tara (vocals), and Julia (violin) make up half of Forasteros, an international 6-piece band whose members hail from Wales, England, Japan, Mexico, Spain. Their original and unique sound combines dollops of swing, pop, rock, and unfolksome folk with sprinklings of gypsyjazz. Forasteros have songs in Spanish, English, French, and even the odd bit of Japanese and Welsh. They sing about the homeless, landlords from hell, cigarette kisses, stolen guitars, the International Monetary Fund, children's nursery rhymes, and much more!
Based in Madrid, the Forasteros released their demo "Hello You!" in 2015. They have recently been recording in MOBA Studios and are currently working damn hard on their debut album and other such delights.
Tom (guitarra), Tara (voz), Julia (violín) y Hinata (bajo) son dos tercios de Forasteros, un grupo internacional de seis miembros procedentes de Gales, Inglaterra, Japón, México y España. Su sonido, único y original, combina dosis de swing, pop, rock y folk muy poco folclórico con algunos toques de gypsyjazz. Tienen canciones en español, inglés, francés e incluso algunas letras en japonés y galés. Cantan sobre gente sin techo, caseros terroríficos, besos con sabor a cigarrillo, guitarras robadas, el Fondo Monetario Internacional, canciones de cuna infantiles y mucho más.
Con base en Madrid, Forasteros autopublicó su EP «Hello You» en 2015. Han estado grabando recientemente en los estudios MOBA y en esos momentos están dándolo todo para sacar adelante su álbum de debut.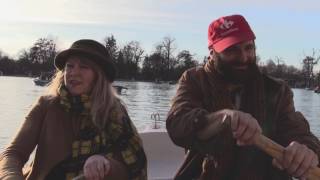 Connect with Forasteros on Facebook and check out their music on Bandcamp.
Conecta con Forasteros en Facebook y escucha su música en Bandcamp.
—
Forasteros will perform acoustically starting at 21.00 on Saturday February 11th. Bring your positive energy and a cushion to sit on. Lively conversation, new friends and more, before and after the performance. Come join us!
Forasteros nos ofrecerán un concierto acústico a partir de las 21:00 del sábado 11 de febrero. Trae tu energía positiva y un cojín para sentarte. Conversación animada, nuevos amigos y más antes y después de la actuación. ¡Únete a nosotros!
—
Cover: 5€ (or 7€ with Open Bar of wine and beer)
Suggested Donation to Artists is a sliding scale: 5€ to 20€
Entradas: 5€ (o 7€ con Barra Libre de vino y cerveza)
Donación sugerida a la artista es una escala móvil: 5€ a  20€ 
—
——————————————————————————————-
OUR OFFICIAL GROUP SPONSORS / NUESTROS PATROCINADORES OFICIALES DEL GRUPO: