"Music is a truth that has found its voice. An emotion covered by beauty. Sadness on its way to healing. A journey towards another place. An open door towards ourselves."
«La música es una verdad que ha encontrado su voz. Una emoción cubierta de belleza. Tristeza en vías de curación. Un viaje a otro lugar. Una puerta abierta hacia nosotros mismos».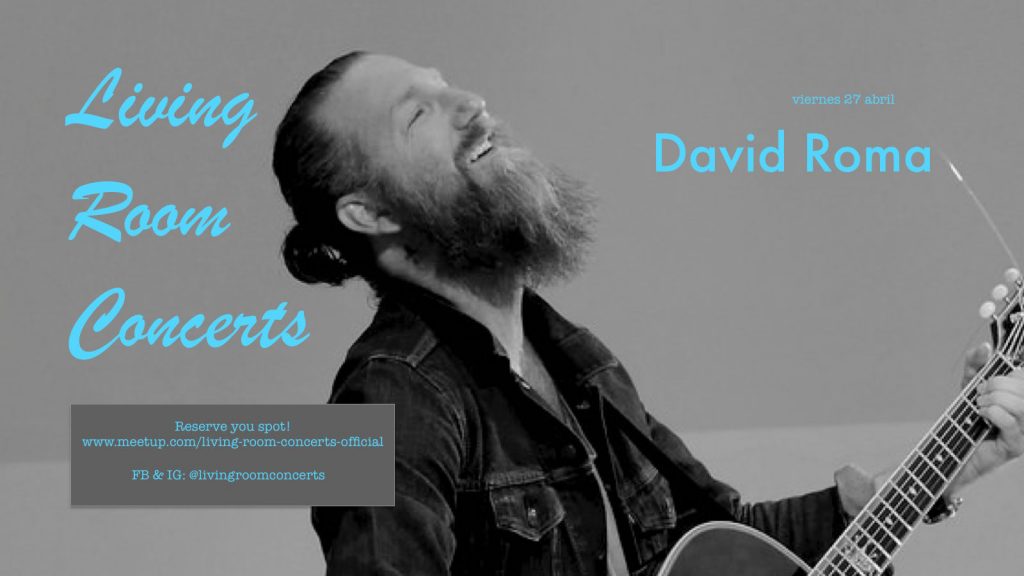 David Roma is a musician, composer and producer. He has worked as a session musician and as a producer in recording studios. Having been awarded Gold and Platinum records, he has also worked with artists such as David Bisbal, Luis Fonsi, Coti, Carlos Baute, Miranda, Jessie and Joy and Axel with whom he has toured all over Latin America, being on stage in the mythical Luna Park and Vélez Sarsfield stadiums, both in Buenos Aires. David has played his music for over 150 thousand spectators in a concert.
David writes and produces most of his songs himself, among which is "Te voy a amar". This song has as exceeded the 250 million reproductions in YouTube and has lately become one of the most famous ballads in the Latin American market. This is just one of the reasons why David Roma was granted a Golden Award. His hits like "Todo Vuelve" and "Todo mi undo", with millions of visits in internet, are part of his album "Un Nuevo Sol, which turned into double platinum album the same day it was released.
David Roma has launched his solo career with 5 singles of his own creation, three of those reached the first place in the "40 Principales Canarias" on the Click & Roll list which brings together the best current artists from the Canary Islands. Some of this songs include "Vagabundo", "Acróbata" and "Tuyo".
He has been in Las Palmas on the 4oPop stage twice, together with Cadena Dial, and has performed with Rosana, India Martínez, Funambulista, and Antonio José, among others.
Last October, David launched "David Roma El Juego" which is a video game, starring David himself, that has a charitable and humanitarian objective; To create more music to financially support the "Barrios Orquestados" project. This project brings music to various neighborhoods where people in need reside. It also provides stringed instruments, as well as free classes, to more than 300 children. In the game, David Roma ́s "Alter Ego" fights against a bunch of Trolls that have invaded the planet and intend to put an end to music.
At present, David is releasing his new songs from #Massachusetts, a tour which is going to take him across Spain, loaded with his newest unreleased songs that have not yet been recorded in the studio. In this creative search, Latin American folk and rock merge. The first single is "¿Qué me pasa con vos?" which managed to become the number one hit in the "40 principales Canarias". His song "Fumarte" is a second release hit recorded live in "Directo Lavapiés", Madrid.
David Roma es músico, compositor y productor. Ha trabajado como músico de sesión y productor en estudios de grabación. Tras haber obtenido discos de oro y platino, también ha trabajado con artistas de la talla de David Bisbal, Luis Fonsi, Coti, Carlos Baute, Miranda, Jessie & Joy y Axel, con los que ha ido de gira por toda América Latina; ha tocado incluso en los escenarios de los míticos estadios Luna Park y Vélez Sarsfield, ambos en Buenos Aires. David ha tocado su música en concierto para un público de más de 150 000 espectadores.
Escribe y produce la mayoría de sus canciones, entre las que se encuentra «Te voy a amar». Este tema ha superado los 250 millones de reproducciones en YouTube y se ha convertido recientemente en una de las baladas más famosas del mercado latinoamericano. Esta es sólo una de las razones por las que ha sido galardonado. Éxitos como «Todo vuelve» y «Todo mi mundo», con millones de visitas en Internet, forman parte de su álbum «Un nuevo sol», que fue doble platino el mismo día de su lanzamiento.
Ha lanzado su carrera en solitario con cinco sencillos de creación propia, tres de los cuales llegaron al número uno en los «40 Principales Canarias» en la lista Click & Roll, que reúne los mejores artistas canarios del momento. Entre sus canciones están «Vagabundo», «Acróbata» y «Tuyo».
Ha estado en Las Palmas dos veces en el escenario de 40Pop, con la Cadena Dial, y ha actuado con Rosana, India Martínez, Funambulista y Antonio José entre otros.
El pasado octubre lanzó «David Roma: el juego», un videojuego con fines benéficos protagonizado por él mismo que busca crear más música para financiar el proyecto «Barrios orquestados». Este proyecto lleva la música a numerosos barrios marginales. También proporciona instrumentos de cuerda y clases gratuitas a más de 300 niños. En el juego, el alter ego de David Roma lucha contra un grupo de troles que han invadido el planeta y quieren acabar con la música.
En estos momentos, está lanzando las nuevas canciones de #Massachusetts, una gira con la que recorrerá España y en la que tocará sus últimos temas, que todavía no han sido publicados ni grabados en estudio. Su búsqueda creativa fusiona el folk latinoamericano con el rock. El primer sencillo es «¿Qué me pasa con vos?», que subió al puesto número uno de la lista de éxitos de «40 Principales Canarias». La canción «Fumarte» fue otro lanzamiento de éxito, grabado en vivo en «Directo Lavapiés», en Madrid.
Check out and connect with David Roma and his music on his website, Facebook, Instagram and Spotify.
Conecta con David Roma y su música en su web, Facebook, Instagram and Spotify.
—
David Roma will perform starting at 21.00 on Friday April 27th. Bring your positive energy. Lively conversation, new friends and more, before and after the performance. Come join us!
David Roma ofrecerá un concierto a partir de las 21:00 del viernes 27 de abril. Trae tu energía positiva. Conversación animada, nuevos amigos y más antes y después de la actuación. ¡Únete a nosotros!
—
New LRC Members: Join Living Room Concerts and RSVP here.
LRC Members: RSVP here.
---
Sponsors & Collaborators / Patrocinadores y Colaboradores: