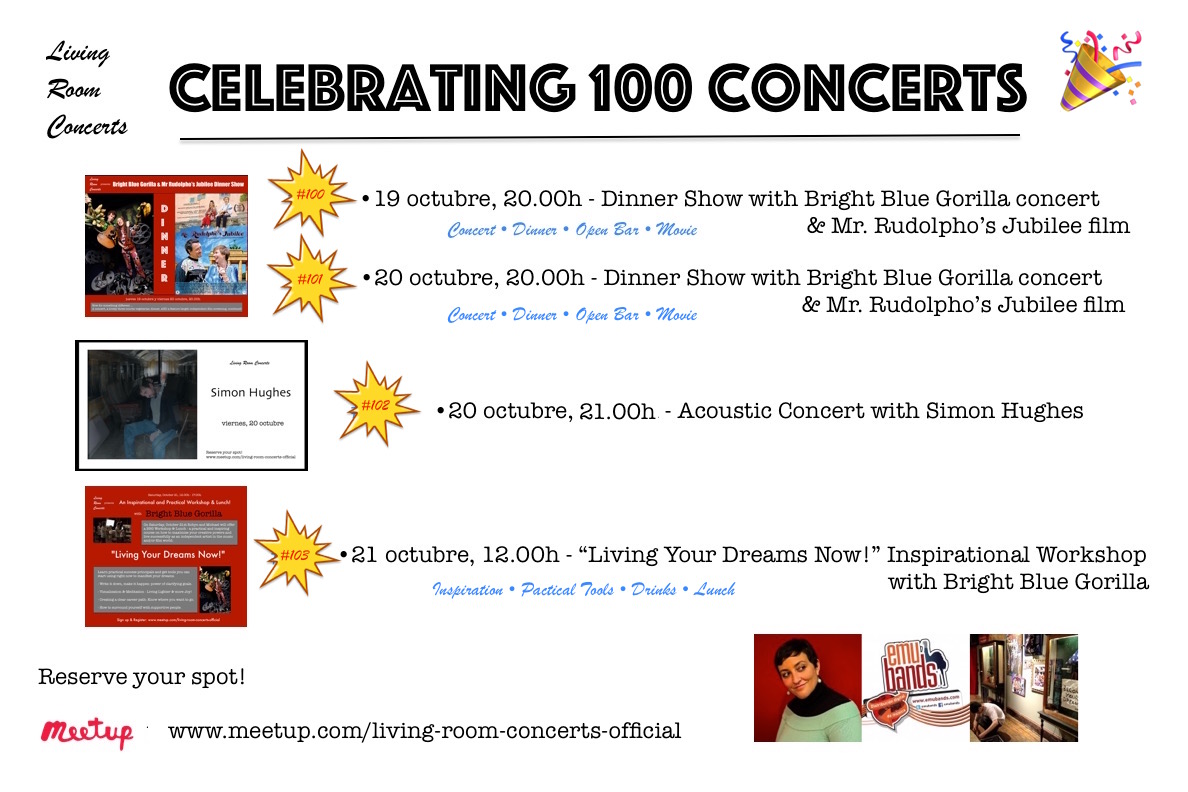 Come join us for a weekend of four great concert events!
We begin Thursday and Friday, October 19th and 20th, at 20.00h with two private four-course concert film dinner shows!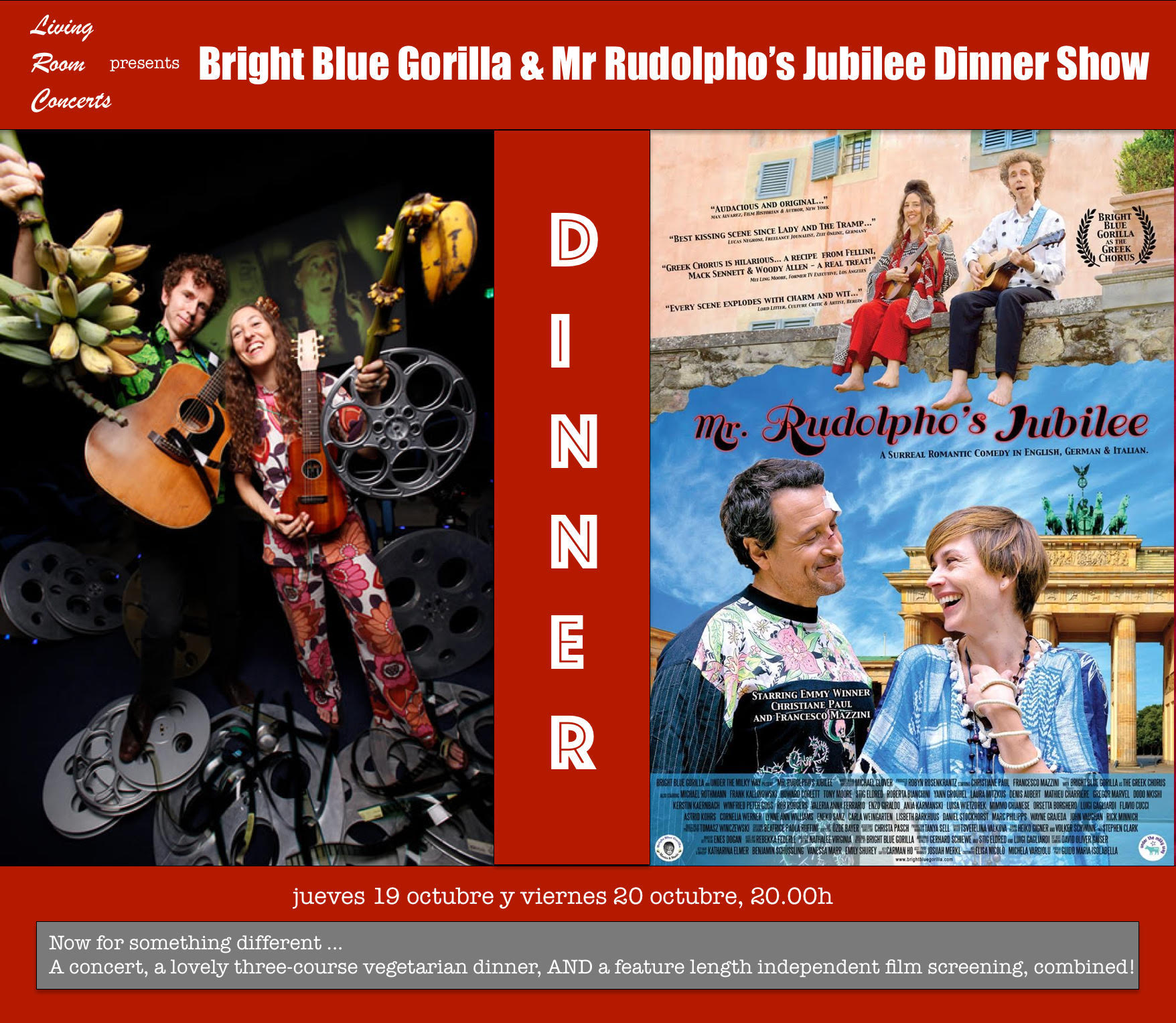 BRIGHT BLUE GORILLA & MR. RUDOLPHO'S JUBILEE DINNER SHOW
Get ready for a multi-course event: a music concert, a catered dinner, an open bar of beer and wine, and a feature-length film showing with world-traveling musicians and filmmakers Robyn Rosenkrantz and Michael Glover of Bright Blue Gorilla. We'll have music, social time, a homemade three-course specially prepared vegetarian dinner, our usual open bar of beer and wine, and then watch Robyn and Michael's latest independent film Mr. Rudolpho's Jubilee starring Emmy Award winner Christiane Paul. There are only 20 spots available on each night's showing. Subtitled in Spanish.  
Subtitled in Spanish.  
Door opens: 20.00h
Concert: 20.30h
Dinner: 21.00h
Film Screening: 21.30h
*includes music concert, open bar of beer and wine, refreshments, catered homemade dinner, feature-length film, pleasant company, organizer fee, hosting fee, production, €10 of every ticket goes to the artists)
La película está subtitulada en español.
Entrada anticipada: €27 + IVA (discount extended, no refund)
Entrada: €35 (IVA included)

Puerta abierta: 20.00h
Concierto: 20.30h
Cena: 21.00h
Presentación de la película: 21.30h
*incluye concierto de música, barra libre de cerveza y vino, refrescos, cena casera servida, largometraje, compañía agradable, honorario del organizador, honorario del anfitrión, producción, 10 € de cada boleto va a los artistas)
____________________________
Also on Friday, October 20th our Regular Host Nacho will be hosting a private music concert with Simon Hughes.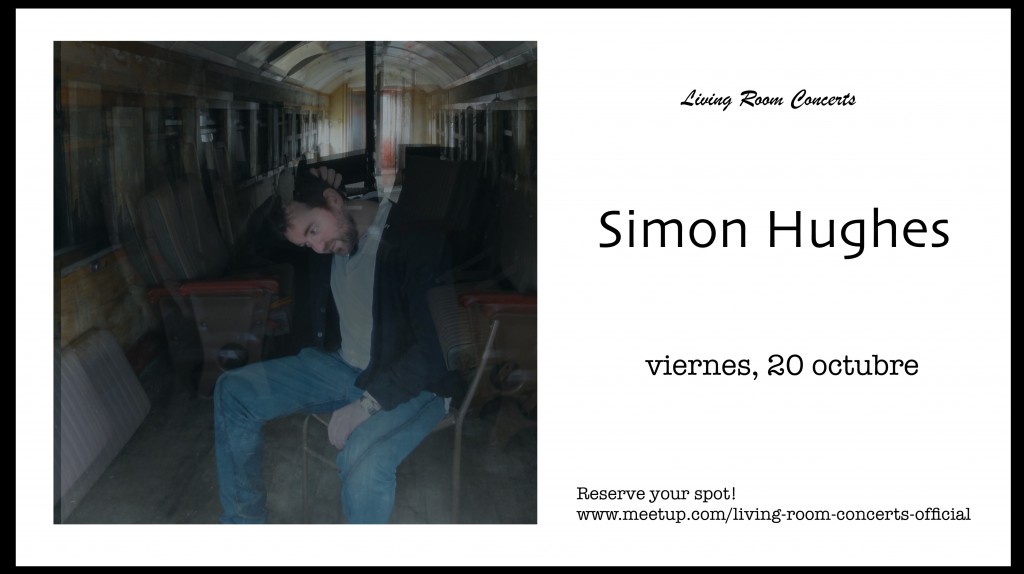 ACOUSTIC CONCERT with SIMON HUGHES
This is a very special concert with a very special fellow who has performed for us once before in the second series. Soulful, provocative, entertaining, and from the heart … his music and passion for life are an inspiration and wonder to behold.
Reserve your spot today!
viernes 20 octubre, 21.00h - More Infomation and How to Reserve for this Acoustic Concert here.
____________________________
Our fourth weekend event celebrating this centennial is "Living Your Dreams Now!"
An inspirational and practical workshop for those who would like to make a career independently in music and or film.
Includes a specially prepared catered vegetarian lunch.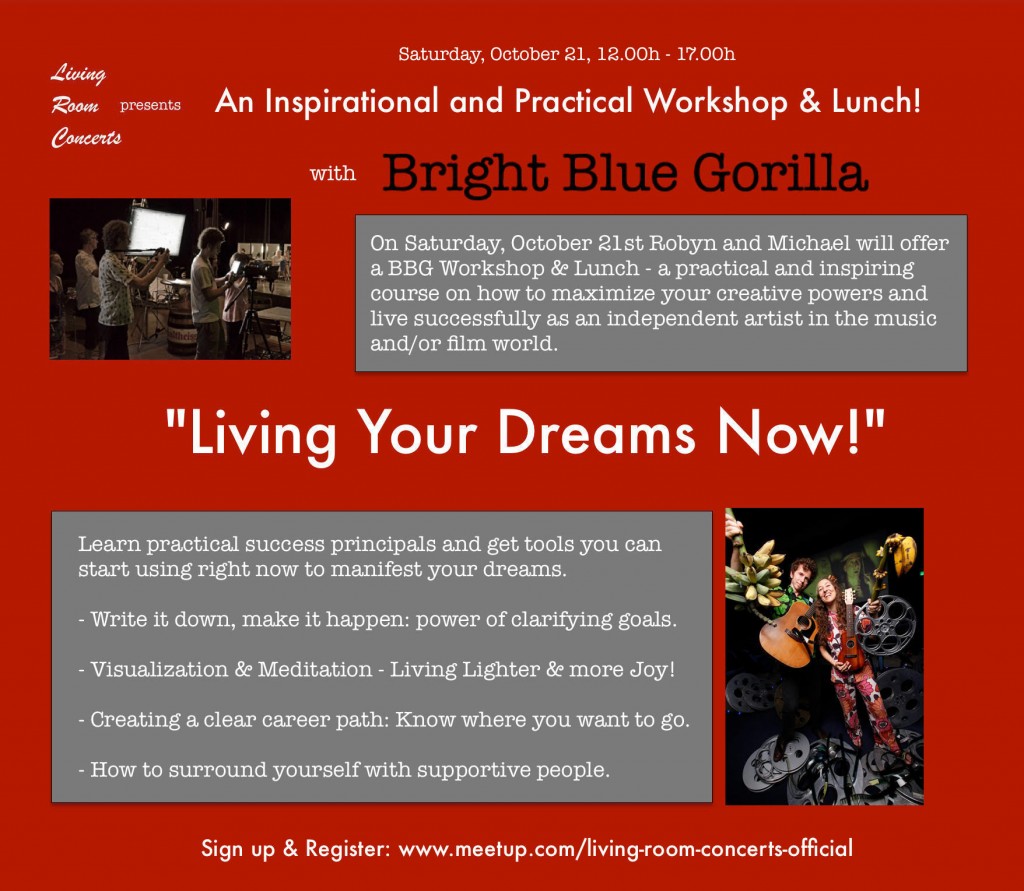 "LIVING YOUR DREAMS NOW!" WORKSHOP & LUNCH
Are you you a singer-songwriter, music-maker or filmmaker? Do you want to make music or film a full-time career? Do lack focus and understanding on how to manifest your dreams into reality? Would you like to meet two inspiring musicians and filmmakers who live their life traveling the world? Would you like practical tools to help put you on the path to achieving you dreams?
If so, come join us for this special five-hour workshop with Robyn Rosenkrantz and Michael Glover which includes a catered vegetarian lunch and drinks.
Usually these two give this workshop at film festivals, in music and art schools but we were given the wonderful opportunity to host this workshop in one of our living rooms in La Latina. As part of the initiative for our Third Series of concert events, we're adding in workshops for our members to pursue a lifestyle and career in their creative life aspirations. There are ten spots available.
Reserve yours today!
sábado 21 octubre, 12.00h a 17.00h – More information and how to reserve your spot to "Living Your Dreams Now!" Workshop & Lunch here.
____________________________
Become a member of Living Room Concerts Official on Meetup.com
Come join us and have a once-in-a-lifetime experience!
____________________________
In collaboration with:

Sponsored by:

Julia G. Lecuona Allende - EmuBands - Style My Life
October Events …
–
Telephone: +34 631661108 / +001 802.332.6615  ||  Email: info@stylemylife.us